UNHCR warns asylum under attack at Europe's borders, urges end to pushbacks and violence against refugees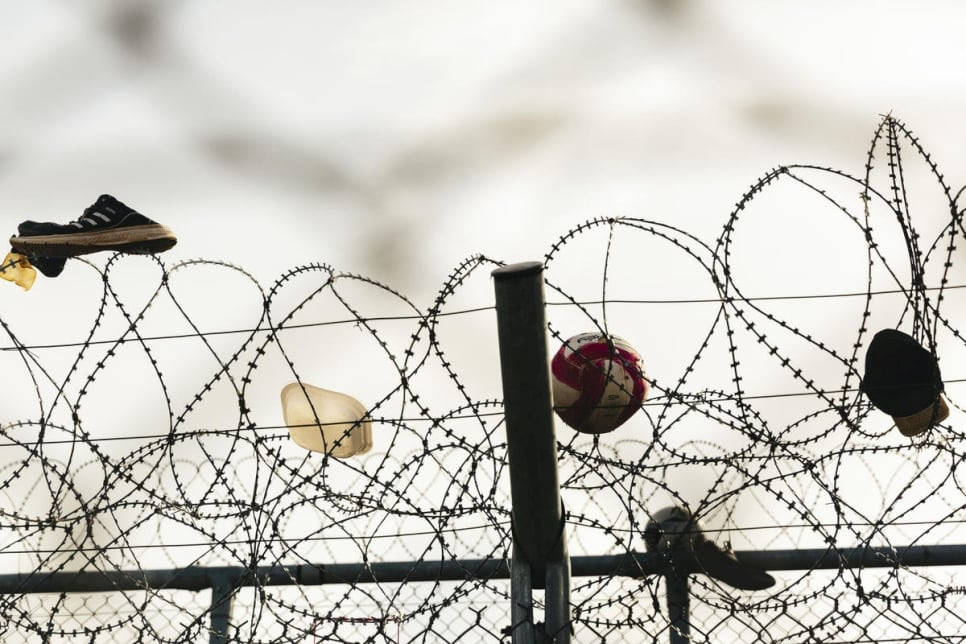 Shoes, a ball and a hat caught on a three layered barbed-wire fence at the Fylakio reception and identification centre near the Greek-Turkish border.  © UNHCR/Achilleas Zavallis
Alarmed at the increasing frequency of expulsions and pushbacks of refugees and asylum-seekers at Europe's land and sea borders, UNHCR, the UN Refugee Agency, is calling for states to investigate and halt these practices.
"UNHCR has received a continuous stream of reports of some European states restricting access to asylum, returning people after they have reached territory or territorial waters, and using violence against them at borders," said UNHCR's Assistant High Commissioner for Protection, Gillian Triggs.
"The pushbacks are carried out in a violent and apparently systematic way. Boats carrying refugees are being towed back. People are being rounded-up after they land and then pushed back to sea. Many have reported violence and abuse by state forces."
People arriving by land are also being informally detained and forcibly returned to neighboring countries without any consideration of their international protection needs.
The 1951 Refugee Convention, the European Convention on Human Rights and EU law require states to protect the right of people to seek asylum and protection from refoulement, even if they enter irregularly. Authorities cannot automatically deny entry to or return people without undertaking an individual assessment of those in need of protection.
"Respecting human lives and refugee rights is not a choice, it's a legal and moral obligation. While countries have the legitimate right to manage their borders in accordance with international law, they must also respect human rights. Pushbacks are simply illegal." said Triggs.
"The right to seek asylum is a fundamental human right. The COVID-19 pandemic provides no exception; it is possible to protect against the pandemic and to ensure access to fair and speedy asylum processes."
UNHCR has made its concerns clear to European states. The refugee agency calls for urgent inquiries into alleged violations and mistreatment based on credible testimonies that are corroborated by non-governmental organizations, media and open-source reporting.
"We advocate for national independent monitoring mechanisms to be set up to ensure access to asylum, to prevent rights violations at borders, and to ensure accountability. Independent monitoring is also proposed by the EU Pact and we urge EU Member States to support this", said Triggs.
Numbers of arrivals to the EU continue to decrease each year. The numbers of those arriving by sea and land in 2020 (95,000) decreased by 23 per cent when compared with 2019 (123,700 individuals) and by 33 per cent when compared with 2018 (141,500).
"With so few arrivals to Europe, this should be a manageable situation. It is regrettable that the issue of asylum remains politicized and divisive despite such declining numbers."
UNHCR recognizes that some states carry a disproportionate responsibility in hosting new arrivals. UNHCR calls on other European States and the EU to demonstrate solidarity by supporting them.
UNHCR also calls on European countries to uphold their existing commitments to refugee protection by admitting asylum-seekers at their borders, rescuing them at sea and allowing disembarkation and registering and supporting new asylum seekers.
UNHCR stands ready to assist states in meeting these international asylum obligations.
IOM steps up help on Yemen's West Coast as clashes heighten desperation
Al Makha – The International Organization for Migration (IOM) has ramped up its humanitarian assistance on Yemen's west coast where the needs of communities displaced by years of conflict are growing amid ongoing violence.
The Organization is also urging more help from donors and aid partners.
IOM's response is focusing primarily on the two governorates of Ta'iz and Hodeidah, where active frontlines continue to cause instability and force families to flee.
Since 2017, when mass displacement in the area began, tens of thousands of people have struggled to survive in protracted displacement in hard-to-reach areas where public services and humanitarian assistance are extremely limited.
"We were displaced here four years ago and we still feel unsafe from the bullets flying overhead," said Aziza, a mother displaced in Khoka district. "There are seven families living in my small shelter. We can't afford medical care or school costs. We need peace and we need to go back home."
More than 17,000 displaced families are living in more than 140 displacement sites in the area, while ongoing fighting continues to provoke new waves of displacement. Most recently, clashes in eastern Al Tuhayta district have displaced more than 200 families westward to safer areas.
"As the needs of displaced communities on the west coast continue to mount, IOM is ramping up its response to thousands of people in need of urgent services, especially health care, water and sanitation, and shelter," said Christa Rottensteiner, IOM Yemen Chief of Mission.
"We urge donors and other partners to commit more significant investments to ease the levels of desperation facing too many people on the west coast."
As one of the few international humanitarian organizations operating in the area, IOM is implementing lifesaving interventions in 13 displacement sites, providing shelter, clean water, latrines, cash and essential relief items to thousands of families in need.
The Organization is expanding the availability of health care to affected populations by enhancing primary and child and maternal health care, addressing malnutrition, promoting mental health and psychosocial support, providing incentives to health-care workers and deploying mobile medical teams in underserved areas.
IOM is working with donors and partners to support communities on the west coast by coordinating services in displacement sites, and promoting longer-term recovery with transitional shelters, rehabilitating water networks, increasing COVID-19 testing and constructing flood risk reduction walls.
The Government of Canada has been instrumental in IOM's scale-up of the lifesaving humanitarian response to the most immediate needs of communities – namely water, health and shelter improvement.
IOM's Global Crisis Response Platform provides an overview of IOM's plans and funding requirements to respond to the evolving needs and aspirations of those impacted by, or at risk of, crisis and displacement in 2021 and beyond. The Platform is regularly updated as crises evolve, and new situations emerge.
Djibouti rolls out COVID-19 vaccinations for migrants
Djibouti – Migrants in Djibouti are being vaccinated against COVID-19 for the first time, as the International Organization for Migration (IOM) works with the Government to support the national immunization effort.
Since the start of the COVID-19 vaccine roll-out globally, IOM has been advocating for the inclusion of migrants and Djibouti is one of the first countries in the region to initiate a campaign for them. Around 70 migrants have received jabs since the vaccination drive began on 12 October and it will continue till at least the end of the year.
The move is a crucial step towards protecting and safeguarding migrants across the East and Horn of Africa region, since Djibouti is one of the main transit countries for tens of thousands of migrants who attempt to leave the continent each year to find work, mainly in the Gulf countries.
More than 112,000 migrants passed through Djibouti in 2020 according to IOM's Displacement Tracking Matrix, despite the reduced mobility caused by the pandemic.
The country is also a destination for thousands of stranded migrants, and those fleeing the conflict in Yemen. They often travel and live in overcrowded and makeshift settings, which disproportionately exposes them to COVID-19 and other health risks. Migrants also often have little access to COVID-19 prevention tools, such as reliable information, masks, sanitizer, clean water, and access to health services.
Migrants in Djibouti are receiving the vaccine at the Migration Response Centre (MRC) in Obock, one of several in the region where those in difficulty are assisted with shelter, food and health care, among other services. Nearly 1,000 migrants have sought and received support at the MRC in Obock, in the first half of this year.
"We've called on the local population, including migrants, to actively participate in the vaccination drive and reminded them that the vaccine is still the most effective way to protect yourself and those around you," said the mayor of Obock, Abdoulmalik Mohamed Banoita.
IOM is also working to counter hesitancy and misconceptions around immunization, by conducting sensitization sessions in various languages.
"The inclusion of migrants in the vaccine roll-out shows the Government of Djibouti's commitment to include some of the countries' most vulnerable people in their response to the COVID-19 pandemic," said Stéphanie Daviot, IOM's Chief of Mission in the country.
"We are grateful to the Government for its commitment and partnership with IOM to provide assistance of this nature to migrants and help reduce the spread and impact of this disease."
Djibouti has had more than 13,100 confirmed cases of COVID-19 and over 170 people have died since the start of the pandemic. Earlier this month IOM, the Ministry of Health, and other technical partners, launched an accelerated vaccination campaign with the objective of vaccinating 25 per cent of Djibouti's population of about 1 million people. This target includes vulnerable population groups such as migrants and refugees.
The hope is that with the inclusion of migrants and communities on the move in the vaccine roll-out, the number of cases and negative impact of COVID-19 will be reduced.
IOM is supporting the Ministry of Health in its vaccination roll-out in the different regions of the country within the framework of the East and Horn of Africa COVID-19 Strategic Response and Recovery Plan for 2021 and with funding from the Swiss Agency for Development and Cooperation (SDC) and the Bureau of Population, Refugees and Migration (PRM) of the US Department of State.
IOM resumes voluntary humanitarian return assistance flights from Libya after months of suspension
Tripoli – The International Organization for Migration (IOM) has resumed humanitarian flights from Libya after receiving clearance from the Government of National Unity and has safely returned a group of stranded Gambian migrants who are among thousands of others waiting to go home through IOM's Voluntary Humanitarian Return (VHR) programme.
Thursday's flight, carrying 127 people (117 men,  five women, five children) from Misrata airport to the Gambian capital of Banjul, marked the first since 8 August when all humanitarian flights were suspended by the Ministry of Interior. The returnees included migrants who had been detained in overcrowded detention centres and waiting for months to go back to their home countries.
"More than 10,000 migrants in Libya have requested IOM's Voluntary Humanitarian Return Assistance and have been waiting for months to return home," said Federico Soda, IOM Libya Chief of Mission. "It is extremely significant that the government has lifted the suspension because IOM's VHR programme is critical for migrants who want to leave Libya and return home in a safe, legal and dignified manner and rebuild their lives."
The return process is also supported by the countries of origin with whom the pre-departure work in Libya is closely coordinated along with the arrival of their nationals in the capitals. Before departure, the returning migrants had health checks and were given pre-departure transportation assistance, counselling services and protection screening. They also received personal protective equipment and took COVID-19 tests before boarding.
Libya has long been an important transit and destination country for migrants arriving from different parts of Africa. Many become stranded in the country with limited options to return home. Since 2015, more than 53,000 migrants have returned from Libya through the VHR programme, which is funded by the European Union under the EU-IOM Joint Initiative for Migrant Protection and Reintegration and through the Italian Ministry of Foreign Affairs' Migration Fund.