IOM: 44 migrants rescued in Nigerien desert
The UN migration agency IOM confirmed that 44 West African migrants were rescued in the Nigerien desert on July 6. They were on their way to Libya.
The group of 44 migrants, including 29 men, 12 women and three young girls, were found in northern Niger, about 20 kilometers from the town of Dirkou, reported the French news agency Agence France Presse, AFP.
According to the IOM, the vehicle in which they had been traveling had broken down and their driver had then abandoned them. Some of them needed medical attention and were taken to a nearby transit center for first aid, said the IOM.
"On board were 21 Nigerians, 12 Ghanaians, 4 Malians, 6 Ivorians, 1 Beninese," stated a tweet from the IOM. "The majority of the migrants have indicated that they want to continue their journey to Libya," added the UN agency.
Popular crossing point
The area where the migrants were found is a popular crossing point for mainly West African migrants, hoping to make it through Libya and eventually to Europe. The area also boasts some gold mining sites, so many Nigeriens and their neighbors come to the area for work and in the hope of making some money.
Many of the migrants stay some months in Niger, either trying to earn money for the next stage of their trip, or hidden by smuggling gangs until a convoy is ready to take them on to Libya. The Nigerien authorities and the IOM say it is fairly common for these trucks to break down in the desert and for the drivers and smugglers to abandon people in the middle of the sand.
Some migrants then die of dehydration. Temperatures in summer often top 40 degrees Celsius and there is very little or no shade or water available. Just days before this group of migrants were rescued, ten migrants were found dead in the region.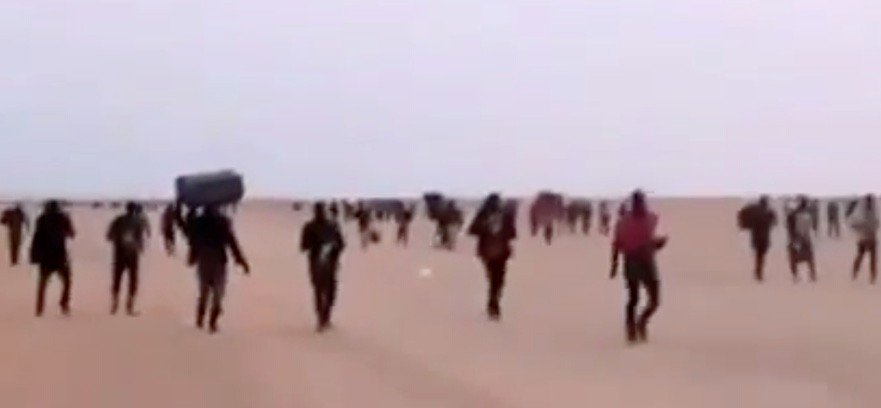 Dehydration
The Niger authorities have launched an investigation into the death. In an attempt to stop the migrant smuggling trade, the Niger government made migrant smuggling a crime which carries sentences of up to 30 years in prison. But according to a Nigerien security source, this has only served to push smugglers to use "new and more dangerous routes," reports AFP.
On July 5, the IOM held a conference with partners in the area on the subject of migration and border management in the Sahel region. The mayors of 15 communes in the Agadez region came together for a four day workshop. The aim of the program was to try and provide stablization in the region and work towards peace.
On July 4, IOM Niger announced that a new school in the Diffa region was "now ready to receive 500 students from the host and displaced communities." The IOM helped to build three classrooms at the school "to provide children with a safe learning environment."
IOM is also working hard to counter trafficking in the area. Women and girls make up 69% of all trafficking victims, according to a new study by the IOM