Rise in Horn of Africa migration a worry, says UN official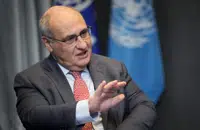 The numbers of women and children migrating from the Horn of Africa to Gulf countries through Yemen has significantly increased and is a cause of concern, according to the head of the International Organization for Migration.
The treacherous journey from Ethiopia, Somalia and Djibouti through Yemen, called the Eastern Migration Route, has seen a 64% increase in the past year of people seeking better livelihoods, with larger numbers of women with children and children travelling alone, IOM Director General Antonio Vitorino told The Associated Press.
Climate change is a driver of the increased migration, he said.
In the past, women and children would often opt out of the dangerous journey through the desert mostly made on foot. Previously men would leave their families behind and make the trek in the hope of finding jobs and sending money back home.
"The pressure is mounting" as the numbers of migrants rise, said Vitorino who was in Kenya for the launch of a $84 million appeal to support more than 1 million migrants using the route through Yemen.
The desperate migrants are vulnerable to criminal gangs along the route and need protection against rape, violence, traffickers and smugglers, he said.
Source: AP